Jewels of Greyfriars
£

39.00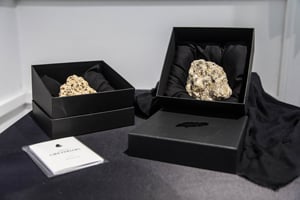 Jewels of Greyfriars
Artifacts from a project by artist Sayed Sattar Hasan
COLLECTION ONLY.
Contact us at info@nncontemporaryart.org to arrange collection.
The jewels were recovered by Hasan and a team of art specialists while on an expedition to the Greyfriars Bus Station demolition site in 2015. Beguiled by the aura of these miniature monoliths, the party were compelled to collect the finest examples from the mountain of debris before they were lost to the town.
The fruit of a multi-million pound investment and crafted by the creative force of dynamite, the Jewels of Greyfriars glimmer with Northampton's tempestuous spirit. The rubble is exceptional in the way it reflects the character of the town itself. A place, which may be considered flawed and easily disregarded, yet possesses tremendous worth to those who seek it.
You can purchase a unique cultural artefact and invest in Northampton's creative future. This 'treasure from the mouth of hell', an object of cultural importance to Northampton arts and culture, is a limited edition piece of contemporary art. All profits from the Jewels of Greyfriars will support NN Contemporary Art's public exhibition, event and CPD programmes.